DIGITAL VISITING CARD CUM MINI WEB IS FOR ALL KIND OF BUISNESS EXIST IN THIS WORLD..
" Digital Smart Business Card or Digital Visiting Card " is a Mini Website which is 100 times more attractive than a normal Business Card and which will attract your customers or Audience and you can sell your products or services online via whatsapp and social media all over india.
You can change and edit Your products, services, images, price and everything unlimited times from your mobile phone within few minutes. 
WE HAVE 30+ PREMIUM DESIGN FOR  MINI WEB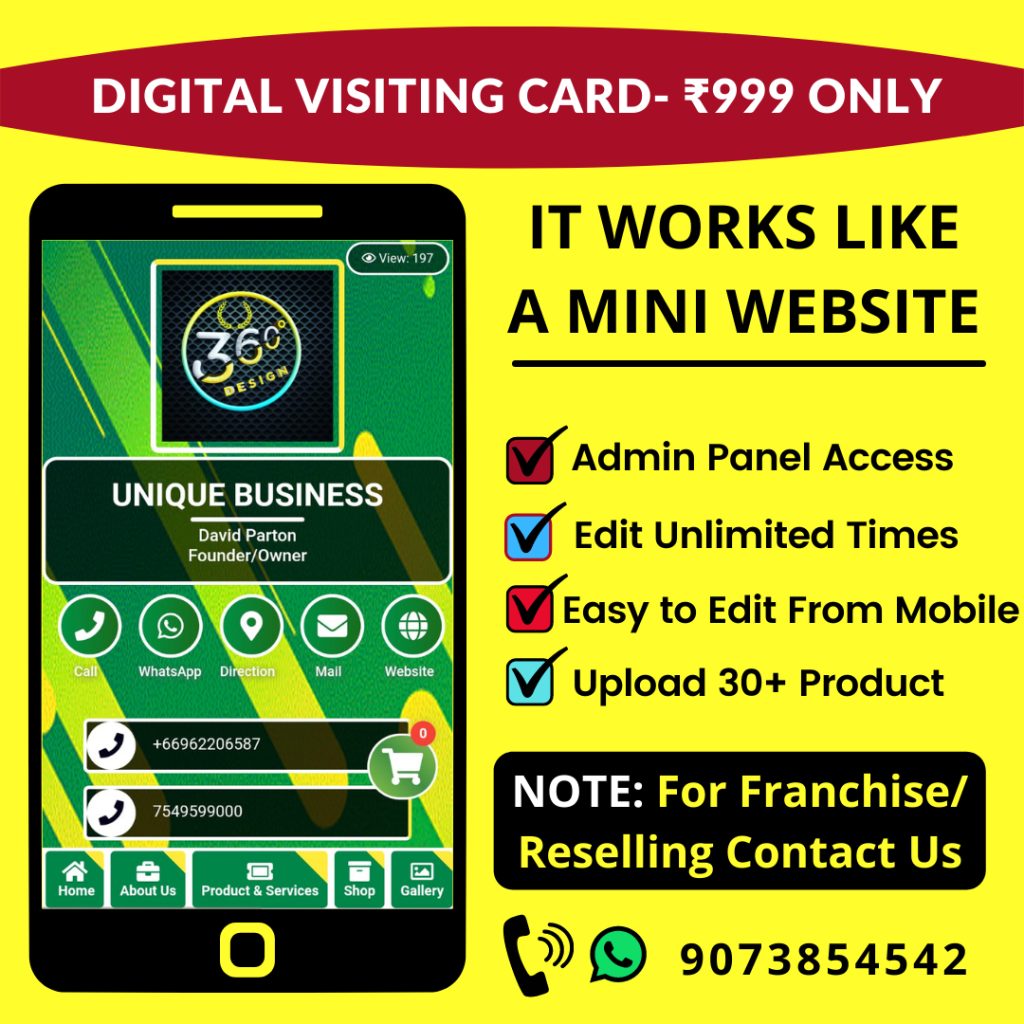 CHOOSE YOUR DV-CARD CUM MINI WEB PACKAGE NOW
DVC MINI-WEB-I
Mini web Basic Version
Profile Photo/Logo Upload Option

Select design from 15 templates

You can Upload upto 30 Products or Services

You can Upload upto 10 Photos in Gallery section

You can upload upto 5 Videos in video section
DVC MINI-WEB-II
Mini web Advanced Version
30+ Premium Attractive Template

You can Edit Your Mini web Unlimited times by using Mobile.

Card Sharing Option via all Platform

Live Reviews/Testimonial System

Share your mini web with anyone, Unlimited times

One Click Save Contact Button

Your Customer can give Live Feedback(testimonial) option available

You can Upload Upto 30 Product or services etc.

E-commerce Order Manager system

You can Upload up to 10 Photos in image Gallery

You can Connect all Social Media Page

You can Upload upto 5 Videos in Youtube Video Gallery

now in advanced version QR code scanner system also available Absolutely for Free.

Razorpay Payment gateway(optional)
FREQUENTLY ASKED QUESTIONS
Still Do You have any Other Question?